Amazon isn't really known for being a "cruelty-free" brand, but the truth is, there are tens of thousands of quality vegan and cruelty-free products listed on their website.
Amazon's prices and convenience make it one of the leading places online to purchase cruelty-free items such as make-up and shampoo.
Many of the brands that Amazon carries are difficult, if not impossible, to find in local stores, making them an appealing option for those of us who are health conscious or environmentally aware.
Despite the absurdity of animal testing and cosmetics that use animal-based products, these practices are still common. So it makes sense that an aware consumer would want to order cruelty-free products from Amazon rather than settling for garbage at the local mall.
We've put together a small compilation of some of the hottest cruelty-free products on Amazon right now, so you don't have to waste time scouring the web.
One of the fastest growing small businesses specializing in organic and gentle soaps, shampoos, and body-washes, Puracy has been making a name for itself over the past few years.
They have a litany of best-selling cruelty-free products that are also eco-friendly. Their shower gel, which we're featuring, has over 5,000 reviews with an average 4.5 star rating.
Not only are their products free of harmful chemicals, they are proven to work. Their product line is top notch, boasting over 20,000 five star reviews across all products and platforms.
If you are looking for all natural, cruelty-free body washes and shampoos, you absolutely can't go wrong with these.
In the world of mascara, you have literally hundreds of choices these days.
But how many of these choices are affordable, cruelty-free, have thousands of 5 star ratings on Amazon, and actually work?
Not many.
In fact, the cruelty-free line from Essence Cosmetics was one of the only set of mascara products that really filled this niche.
When putting together this list, our biggest priority was not only that the products were selling like hot cakes, but that they actually lived up to the hype.
This "false lash" effect mascara hits all the right notes: it's legitimately cruelty-free and even gluten free, its volumizing effect keeps you from having to rely on false lashes, and it is longer lasting than its competitors.
Easy to see why it is one of the hottest cruelty-free makeup options on Amazon!
Burt's Bees has become a household name for anyone who relies on cruelty-free and organic products. Their product line continues to expand as they have become a mainstream competitor.
One thing is true, they have a large product line. While all of their products are not created equal, one of their best sellers on Amazon is actually their toothpaste.
It's fairly difficult to find a reliable toothpaste online that doesn't have an ingredient list a mile long and that is actually cruelty-free, which is perhaps why Burt's Bees Toothpaste is a hot item on Amazon. It fits this role exactly.
A purse made out of cork?
Sounds a bit bizarre, but these cozy little bags are one of the hottest new products on Amazon for a reason.
Durable, high quality, stylish, affordable, and eco-friendly are just some of the reasons why you would want to grab one.
If you're interested in an ethical alternative to leather and similar animal-based products, Corker is the brand you want to support. They have an ever-expanding line of cruelty-free wallets, belts, and more.
Cheesy faux-leather is out, cork is in!
As far as everyday products go, deodorants carry some of the worst chemicals for our skin, especially when you consider the implications of our pores absorbing these chemicals, which are designed to set on the skin for hours or even days.
One of the biggest offenders is aluminum. No one wants aluminum in their deodorant. We sure as hell don't.
This is probably why aluminum-free deodorant has been rapidly gaining in popularity lately.
Super Natural Goods is a solid company that makes quality products that are extremely popular on Amazon, and their aluminum-free deodorant line is the perfect example. If you're concerned about what you're putting on your skin, and you want it to be healthy and cruelty-free, look no further.
We love this stuff! Vitamin serums are the big thing right now because of how effective they are in improving skin tone and simply maintaining skin health in general.
Hyaluronic acid has been a part of "insider" beauty routines in Hollywood and the Asian pop scene for years now for its remarkable ability to hydrate and improve skin. It's so powerful that the acid is often marketed as an "anti-aging" serum, because it reduce wrinkles, eye bags, and other signs of aging or poor skin health.
In other words, they are becoming essential must-haves for anyone interested in glowing, flawless skin!
This line by Eve Hansen has the added benefit of being 100% cruelty-free and all natural.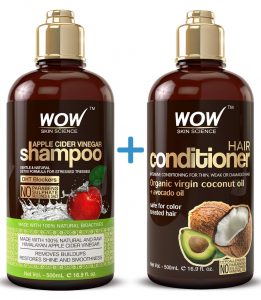 I'm sure you've heard of the health benefits of apple cider vinegar over the past few years. It's reputation for being a wellness tonic is established, but did you know it has other uses as well?
Apple cider vinegar has an abundance of organic compounds that make it perfect for a variety of natural health roles.
In this case, shampoo and conditioner!
Don't take our word for it, this is one of the best selling shampoo and conditioner sets on Amazon, with nearly 10,000 ratings.
It has the ability to strengthen and repair damaged hair, slow down hair loss, and even detoxify the scalp with a combination of plant oils and vitamins.
All of Wow's skin and hair care products are also cruelty-free, so no worries there. Highly recommended!
Digital Sages is a part of the Amazon Affiliate Program. This article contains our affiliate links and any purchase of these products will go toward supporting us.